Get a free digital tune-up with Google
If your business would benefit from a digital MOT with the biggest name on the web, make sure you don't miss this year's Kent Vision LIVE, where online giant Google is running two workshops created specifically for small and medium-sized businesses.
Following rave reviews from attendees at previous Kent Vision LIVE events, Google's Gori Yahaya returned to the Kent Event Centre in May to provide two more opportunities for a free digital 'tune-up'.
Your expert trainer from May 2017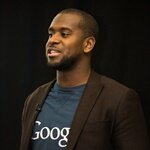 Gori Yahaya
Head of The Digital Garage for Google
Gori is the Head of Training and Development for the Digital Garage from Google. He has over 10 years of experience consulting and training hundreds of SMEs, charities, business owners, entrepreneurs and students on how to boost their digital skills and harness the power of the internet and Google tools effectively to drive growth for their business and reach new customers online.
Digital Garage #1: Get More Customers Online
(1.30pm-2.15pm)
In this lively and information-packed 45-minute workshop, you will hear a wealth of practical tips on how to improve your digital visibility: helping your site to be found through the major search engines and understanding the benefits of online advertising.
Key learning areas include:
• The importance of search marketing
• How does search work?
• Key tools such as Google Trends, Google My Business & Google Adwords
• Optimising for mobile
• Quality scores & click-through rates
Digital Garage #2: Know your Business with Google Analytics
(3.15pm-4.00pm)
In this second 45-minute workshop, you will hear how to use web analytics to discover what your potential customers are doing (and not doing) on your website, where they're coming from, how you can get more and how to track specific objectives for your online campaigns.
Key discussion areas include:
• The kind of data web analytics provides
• How to understand that data and additional insights you can gain
• Why web analytics should underpin all your digital activities
• How to use digital insights to support your business goals
• Deciding what your own goals and conversions should be
Click here to read our blog article on last year's sessions.